July 2022
M
T
W
T
F
S
S
1
2
3
4
5
6
7
8
9
10
11
12
13
14
15
16
17
18
19
20
21
22
23
24
25
26
27
28
29
30
31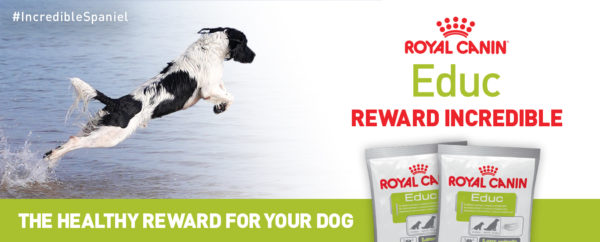 EDUC Dog Treats from Royal Canin.
This Dog Treat is a wonderful low salt, lower allergen, low calorie, high palatability food reward for dogs.
This real hero of a treat is a huge help to vets, both in a clinic and in a pet home setting, helping to calm and to reward our patients.
We found EDUC to be superb as it:
Is ok to use in dogs with IBD or for those lower entry-level, food-intolerant dogs to have as a treat.
Low in salt; some alternative treats are 28X the recommended salt level. Educ's salt level is O.6%.
Low in calories; the owner of an overweight dog can still treat their pet, but now using an exact number of treats so that weight loss is not impaired.
The tiny size also educates all owners from the start as to proper size a treat should be.
Educ Treats are a great way to get a weak dog back eating after a major illness.
 One of the best suggestions of all comes from a Vet colleague and Behavioural Specialist. Valerie's observation "EDUC is also very useful for training dogs to wear a basket# muzzle as it fits through the mesh in most cases" means that, we can now also treat a very nervous dog wearing a box/basket muzzle. As a result, the muzzled pet gets to enjoy the same spoiling and treats that all our other dog patients get at their vet visit. This makes for a happier patient, happier owner and happier vet staff all round.
With more greyhounds appearing as pets in Australian vet clinics, the timing of the reappearance of the EDUC treat that can be used through a box muzzle could not come at a better time.
My own pets, from Dachshund to German Shepherds,  all loved EDUC above any other treat. I suspect you will find your own dogs will be the same.
EDUC PROMOTION 2017 (Now closed).
For the months of Oct and Nov 2017, all purchases, no matter how big or small will go in a computer draw to win one of FOUR boxes (30 packets a box) of ROYAL CANIN"s amazing healthy dog treat EDUC. There is a limit of one invoice per pet per day but you can enter multiple times over the 2 months.
Images  of some of our winners of the above  2017 promotion enjoying their prize.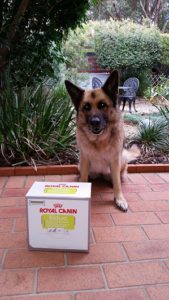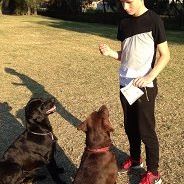 Kyra video: https://www.youtube.com/watch?v=D66Zg__UFvo&list=UUfeo36dEUmMbHHfRuGwoqiA&index=17