July 2022
M
T
W
T
F
S
S
1
2
3
4
5
6
7
8
9
10
11
12
13
14
15
16
17
18
19
20
21
22
23
24
25
26
27
28
29
30
31
This is a day-in-the-life story of Luna, rescued as a young dog from a life of neglect with her first owners.
We are writing this large blog piece to get owners to understand the commitment involved in rescuing an abused or behaviour issue pet. Often a rescue society doesn't fully explain the time costs involved because; maybe they simply don't realise how intense that time-input can be. Therefore, we thought it would be good to share a day in the life of a special needs rescue dog.
These pets really are special needs and it is no fault of yours if you can't fulfil those needs; but find that out Before you rescue a pet. Just take one look at the whiteboard poster for this blog post and really take time to consider whether you have the ability to do this in your own busy life…
There is nothing more heartbreaking than reading in rescue societies of a dog on its 7th home at 9 years of age. That is not good for anyone, least of all the dog in question.
In this case, Luna had spent from the age of 8 weeks being penned down the side of a house and whilst she was not 'abused' in the sense of being hit or starved of food, Luna was abused by being starved of any real human interaction or socialisation.
It is simply obscene to lock any dog, let alone a social dog like a Labrador into a caged run and do nothing else with it. Luna was offered up for rescue at 11 months of age and was rescued by our clients. Luna had no social skills, no normal means of communication with humans and was an extreme handful when rescued. The new owners have pulled out all the stops in helping set Luna up for success.
The effort has required a huge time commitment by all members of this family. Someone is always home with Luna. She was slowly exposed to her new world at  a pace that allowed her to learn and be socialised to not sensitised by the expanding world around her.
Luna was also referred to a specialist Veterinary surgeon behaviourist to compliment the work we were doing with Luna at a general practitioner level. Luna has required behavioural modification drugs, which after 10 months, she has now guided us to what the lowest dose and the type of medication works best for her.
Working with Luna's owners, we have developed novel ways to handle these dogs at our clinic especially in regard to designing anaesthetic protocols for pets on behaviour medications. The Centre for Vet Ed. Sydney Uni has come on-board and co-published our work on Luna, along with supportive materials and articles from other vets working in this field.
LUNA'S DAY.
7 am: Luna woken by the alarm.
7.10am – 8am: Luna goes for a walk.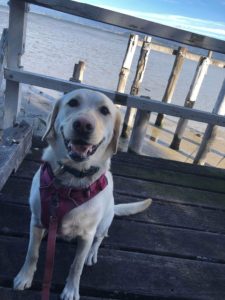 8am -8.30am: Light napping while family gets ready for the day.
8.30am: Anti-anxiety meds given.
8.30am – 9am: Farewells for the day to some of the family.
9am: Breakfast= 1/3rd of her daily food.
Picking out a soft toy to 'kill' and a Nylabone to chew on.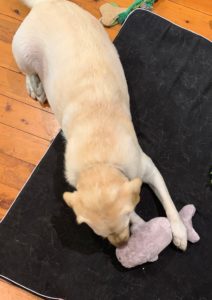 One soft toy and one chew bone a day. Too many toys overwhelm Luna and she doesn't want anything to do with them. Sticking to one of each, changed daily, keeps her engaged.
Play.
Training with a 'Treat-and-Train'
or
'Kong-Wobbler' filled with some of total daily food allowance in the toys.
Chew Toys.
Cuddles if Luna wants them and has initiated the contact.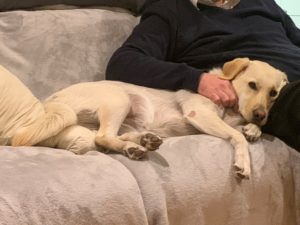 Otherwise, Luna lies on her day bed (mat on the floor) and chews on her bone until she is sleepy.
10am-4pm: Luna mostly sleeps
4pm-6pm: Luna's own awake time to do what she wants re perimeter checks, listening to other dogs and waiting for rest of the family to come home. Luna does love belly rubs when sister Jess comes home.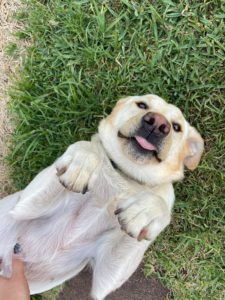 If the huge 'Dinosaur- worms' common in the area are active then Luna is known to enjoy core drilling with her nose and front paws to dig some lovely round holes from which she extracts some very juicy worm snacks for self-made afternoon tea.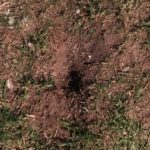 6pm: Dinner=2/3rds of her daily food allowance.
6.10pm – 6.30pm: More Family arrives home. Luna greeted if she does not exhibit negative behaviours (ie jumping up or air snapping).
6.30pm – 7.30pm: Luna chills and hangs out with family.
 7.30pm-8.30pm: More Walks/Run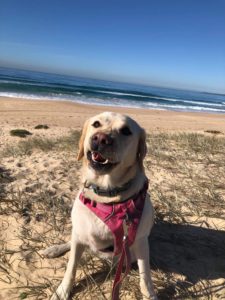 8.30pm: Anti-anxiety meds given.
8.30pm-9pm: Recovering from walk. Panting and drinking. Perimeter check.
9.00pm -9.30pm: Game played with the rest of her biscuits. Might be a training game or a relaxing game.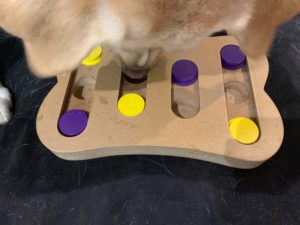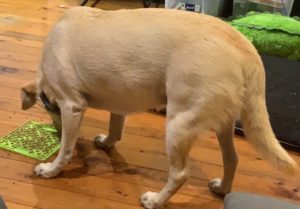 9.30pm-10.30pm: Bone chewing followed by bed time.
10.30pm: Other anti-anxiety meds given just before bedtime.
ADDITIONAL INFORMATION.
Bedtime Routine:
A special treat biscuit in the kitchen, walk through the house as all lights bar bedroom turned out. Luna lays in the bedroom on her mat. Luna given relaxation tummy rubs and soothing words which help her relax down and out ready for sleep.Luna is then covered with her favourite bedroom blanket and drifts off into sleep.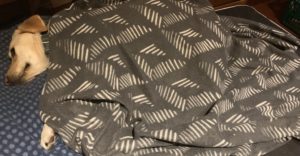 Luna's medication schedule is on a whiteboard so it can change due to circumstances. With several adults able to medicate her, it needs to clear to everyone who has done what and when or if something has changed.
Everyone knows they must check the whiteboard before they give meds to Luna.
3. Dog-Sitter Regime:
Luna can be left at home alone for a few hours at a time. When owners are gone for extended periods, Luna has an adult professional dog sitter whom she knows well and who knows Luna's rescue and behaviour background. When the owners go away, usually for no more than 36-48 hours, all medications and food are prepared to avoid any risk of error
4. Vet Visits.
Luna's visits are tightly organised so she is seen where possible at the less busy times of the day. Luna has a routine she performs when arriving out the front where we all have our parts to play in which humans  appear and where and the order in which they appear. On really busy days where we have to urgently see her, Luna visits via the back-door of the clinic where we can control the movement of others more easily. This photo captures Luna sitting super-focused but super calm, waiting for the clinic back-door to open. Once in, she makes a beeline for the consult room and is up sitting on the table before the rest of us can get  in there. Special treats come out that reward her and distract her until we are finished our exam. Once done, Luna quickly exits the backway again to avoid being over-stimulated by her visit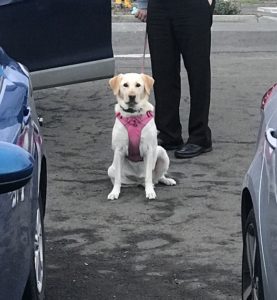 5. Exercise Regime:
Luna is walked at least twice a day, every day. She is walked regardless of the cold, heat or rain. In summer her  owners walk her very early in the morning and very late at night so she doesn't overheat. Luna's owners no longer use the Restrictive harness used in these early videos.
Huge Thanks to Luna's family: Tanya, Mark, Jessica & Mick for sharing all this data with everyone.