June 2022
M
T
W
T
F
S
S
1
2
3
4
5
6
7
8
9
10
11
12
13
14
15
16
17
18
19
20
21
22
23
24
25
26
27
28
29
30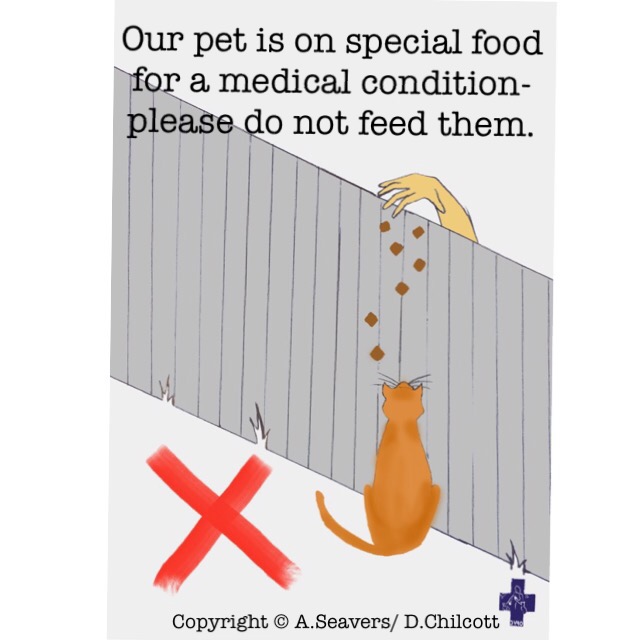 Please, Please, Do Not Feed Your Neighbour's Pets without their knowledge and consent.
Our own gentle, sweet 18-year-old Siamese has now had two recent episodes of terrible vomiting and diarrhoea, all caused by visitors to a rental cottage throwing their scraps over our fence. We only realised that source when we found the lamb bones stuck in a potted plant by the fence! We were less than impressed, especially as we almost lost our dachshund some years ago when we found him choking on a raw turkey neck; again thrown over the fence by neighbours.

As vets we regularly see animals whose owners spent considerable funds getting diabetes or food allergies or weight under control; but struggle to achieve success because their neighbours, without the owner's permission, throw food, when they like and what they like, to the dog or cat over the fence.
If the neighbour's 2-legged human child was out in the garden next door, no one would throw food over the fence to the child simply because, A) a child was there B) there was/had unwanted food sitting around.
Yet some folks think its ok to do this to a 4-legged member of the neighbour's family.
It is Not ok, so please share this message.
To help reduce this problem we have some partial solutions.
For Cats: We have just returned from a vet conference overseas where the above cat collars are popular.They may help some owners and if so, we have for FREE up to Five collars to give away in May 2017.
Just drop into the clinic (after 10am Monday) and collect one. A limit of one per household.
The collars are also handy to put on your indoor cat when you have visitors. The collar is a polite visual reminder not to feed the cat.
The collars can be used in a busy household with a busy schedule, where no-one is sure if the cat was fed and most importantly if medicated. The cat will always lie and pretend not to have been fed for days. The collar is put on when the cat has been fed/medicated and removed at night to be used again when next needed.
We are also happy for owners to download, print, display our posters below if they think it might help a particular situation.
For Dogs: we recommend EDUC treats. We have 60 packets to give away Free in May. You can use them on your own pet, a relative's or your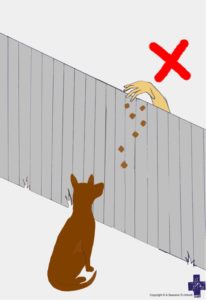 neighbour's dog/s. You must first show the treat to your neighbour and ask if they would mind if you treated their dog from time to time and if so would they be ok about the EDUC treats. For more on EDUC go to Dr Aine's Blog article on this treat. http://tinyurl.com/l9pvg6j