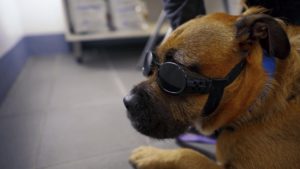 Bruce made us believers in top level laser therapy in pets. A giant breed dog, Bruce has been on multiple drug therapy for his crippling joint pain but was rapidly becoming resistant to all medications. Hills J/D diet helped but the major game changer was the use of our laser on Bruce. After the first session, he went home, woke up the next morning and tried to spend the next 24 hours being very 'affectionate' with his female dog companion! Several months on and Bruce is off all drug therapy. He remains on Hills J/D diet and monthly top-up laser sessions. He now walks well and free of pain.
Video coming soon of Bruce at his sessions.
Charli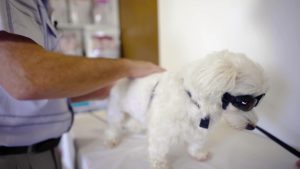 had been to 2 other vets and a massage person. Charli had had hydrotherapy, rehab exercises and a different type of laser there but nothing really held her pain. Within the first session with our new machine, Mark had the dog's pain issue under control. Now Charli can't get into the clinic fast enough to get her treatments. It is a joy to see her race in, almost airborne, to get to where she knows the machine sits. Once on the table, Charli only moves if she wants to give Dr Mark extra access to a sore spot.
Charli's video session. https://youtu.be/kLkD6q-JMuQ