BULLETIN BOARD: GENERAL NEWS AND UPDATES.
Click-n-Collect App or phone pre-order Promotion WINNERS
Thanks to everyone who pre-ordered medication or food during the last few crazy months. It has helped the nurses tremendously to be given advance notice to have products or medications organised in advance. The prize is a $50 voucher valid for 14mth to spend on services within our clinic, ie Vaccines, Consult, Operations etc.
The App and Phone-in new winners are 'Koa' Street & Nudge Kelly. Each win a $50 service voucher.
Our Covid-Policy is also being refreshed and updated -more on that tomorrow.
——————————————————————————————————————————-
June Long Weekend: If travelling to the South Coast there are 2 health issues fur-parents need to be aware of.
1)It would appear Nowra has had a flare up of dog Parvo virus so be aware of that if you are travelling there.
2) Of some concern is that the paralysis tick is still managing to stay active. The risk is lower than summer time, but the risk is still there. If your pet is not normally on tick prevention, try to start at least 2-3 days before you go into tick areas. The products take some days to get to full protective level on your pets so start using tick prevention sooner rather than later.
---
June 2020
Huge thanks to everyone during the first phase of Covid for being so willing to help and support us to remain open, care for your pets but also keep our staff and your families safe.
We are back doing routine consultations, vaccines, surgeries etc.
Clients are invited back inside: 1 adult only per pet so that our small reception area can comply with social distancing rules.
We may often still wear masks and are happy for clients to arrive wearing masks if they wish.
For the moment, we ask you wait in your car until called in; If for no other reason that Covid has really highlighted how all the pets are so less stressed waiting in the car, rather than in a vet reception area. Mums with babies & small children especially have found it far less stressful to be able to stay in the car. We offer this service moving forward, if anyone still wants to do this.
Our hours may change from week to week for a little while yet, so check either our website page hours or phone for more info.
Pre-ordering via our app is encouraged: Pre-orders via our app in May won a free stomach wormer. Orders in June will win a free EDUC treat bag per client.
Cashless is still preferred where possible
---
30/04/2020:Health Alerts x 2
First: We are seeing a run of vomiting dogs in last 48hrs. Common shared area seems to be around Lakelands Oval Dapto. Try to avoid that oval for some days. However, If your dog has gone to this park in last 7 days, please Don't start walking your dog in a new area as that will only spread the problem. The dogs affected seem off-colour, not themselves, then start vomiting some hours later.  As yet, none have needed hospitalisation, just some strong doggy anti-vomit medication and dietary support (and NO, we don't think it has anything to do with Covid-19). Happy for this post to be shared if you know of anyone who uses this park area or whose dog appears off-colour this week.
2)Paralysis Ticks have made a late seasonal and unwelcome reappearance this month. Given the fresh rains this week, any return to warmer weather next week will likely see a rise in tick numbers, so double-check now that your pet's protection is up to date.
---
BLACK HAWK RECALL JAN 2020:We don't sell this brand nor ever advise it be fed so most of our clients are ok: but just in case anyone out there is still using this brand and is unaware of this additional new recall of this food: http://masterpet.com/black-hawk-voluntary-recall-january-2020/
---
Heat Strokes in Dogs have started to present at our clinic: Oct 2019. Read Dr Aine's blog post to help keep your pet safe. /simple-affordable-ways-keep-pet-cool-safe-summer/
---
01/07/2019. Government changes to pet ownership and transfer. /wordpress/wp-admin/edit.php?post_type=page
---
ULTRASOUND SERVICES performed by qualified  VET ULTRASONOGRAPHER now available at our clinic. Pre-booking essential.
---
New Puppy Class Format-read more on our dedicated puppy class page on this site /perfect-puppy-preschool-classes/
—————————————————————————————————————
Two new Food Alerts: Grain-free diets linked to heart disease in dogs.
Probiotics link to low levels of Vit B in dogs on these supplements
Full details in Dr Aine's Blog./why-healthy-animals-dont-need-medications-supplements-or-special-foods/
---
Some Photos of  our weekend July 3rd  at the Australian Vet Science Conference on the Gold Coast. Photo 1: Those of you who know anything about Behaviour, Emotional Health and the Fear-Free Program would be well acquainted with eminent USA Pet Behaviourist Dr Gary Landsberg DVM, DACVB, DECAWBM who was kind enough to answer one-on-one concerns from me that I had on some pet behavioural health issues. Dr Gary also generously posed for a photo with myself and the wonderful Dr Gretta -another speaker/different topic at Science Week. Dr Gretta shared some valuable personal experience with me on the special anaesthetic needs of pets on behavioural medications: a new and evolving field if the lectures at Vet Science week were anything to go by.!
Photos 2 & 3 show Petra Dr Petra Bizikova MVDr, PhD, DipECVD, DipACVD, from North Carolina who is working at the cutting edge of immune-dysfunction skin diseases. It was also great to have Dr Petra lecturer on the presentations of food allergy recognised in dogs and cats- for me, those lectures validated our clinic's long-standing beliefs and approaches to food allergy in cats and dogs.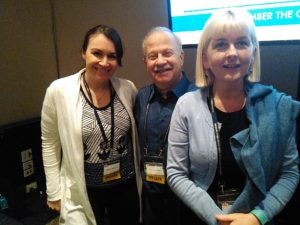 ---
A little bit of Magic on a unseasonally cold Summer morning: Chloe's furkids.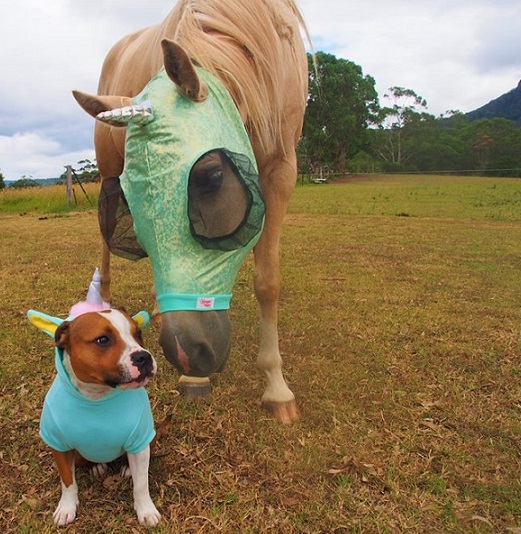 ---