The Australian & New Zealand College of Veterinary Scientists College Prize Winner 2017
BULLETIN BOARD: GENERAL NEWS AND UPDATES.
Rabbit Calici Virus Vaccination Update and Clinic.
We run Rabbit vaccination clinics when there is a viral load surge from a Government release so there is a clinic next week March 21st. For more information about any of the above, read our website article on the background to this issue and or ring the clinic to make a booking. https://www.oakflatsvet.com.au/rabbit-calici-vaccination-clinic-march-21st/
---
---
March 12th SECRET AUCTION SILENT BID RC EDUC WITH PROCEEDS TO CHARITY. WINNER IS T. LOCKHART.
We will donate the full amount of the bid in memory of the amazing Cimmy Lockhart. The clinic will also donate a full box of treats to the safe house on behalf of Luna Lockhart; so that the dogs there get to enjoy some special happy moments with their treats, just as Luna loves her treats in her wonderful new home.
---
MATESHIP VET CLINIC MARCH 16TH 2018: https://tinyurl.com/y7e9kj7b
---
---
DOG Health Alert & Query: February 2018
https://www.oakflatsvet.com.au/dog-health-alert-queryfebruary-2018/
---
A little bit of Magic on a unseasonally cold Summer morning: Chloe's furkids.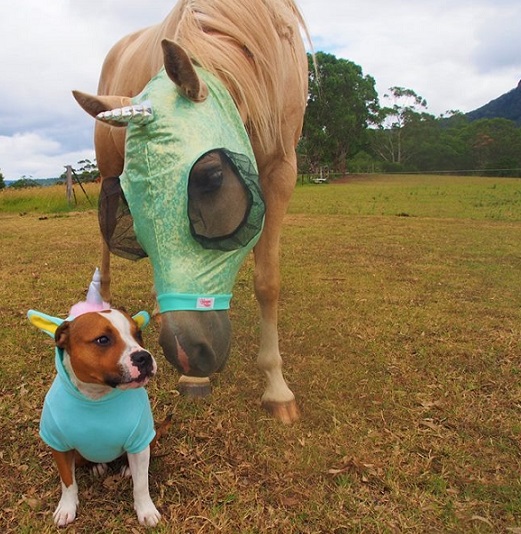 ---
31/01/2018 SILENT AUCTION/SECRET BID ITEM THIS WEEK-PANORAMIS GREEN.
Item for Silent Auction/Secret bid this week: Panoramis Green for 9.1-18kg dogs. Must be used by end of April 2018. You can bid for either one box of 6 tabs( suitable for 2 dogs) or you can pick the second option in the drop-down list in Silent Auction Tab and place an alternative bid for just 3 tablets (if you only have the one dog.) Bidding closes noon this Saturday, Feb 4th, 2018. The tab may be slow to load if many using it, just give it about 60secs to fully load. Bids must be in Australian Dollars only.
---
01/26/2018: Puppy Class is  held at our clinic most weeks.
---
19/01/2017: Silent Auction/Secret Bid- Drontal.
Drontal 10kg size x 5 tablet card,
Silent Auction/Secret Bid now open. Auction closes Saturday 10am, this Jan 27th.
Place bids via the Silent Auction Button on our OFVet clinic App.
Winner must pay in full within 48hrs of being notified of the win.
The highest bid (Aus $ only), allows the bidder to purchase up to 3 of these cards at their winning bid. 
If the winner does not wish to purchase all 3, the next highest bidder will be given the opportunity to purchase the remaining cards at the winning price.
Each tablet doses up to 10kg so one card covers up to 50kg dog weight.
Pick up preferred. Postage extra.
Winner of Silent Auction was K. Dunham. Product to be paid for and collected by noon on Wednesday 31st Jan 2018
---
04/01/2017: Silent Auction/Secret Bid Fun-Hills Food
Silent Auction: Having some Fun from an error.
We have been sent the wrong bag of food from our supplier and it is just not worth the drama and paperwork sending it back. The food is a great food and one we recommend but we just don't have space in our clinic for items that take more than a couple of weeks to sell.
So we will run a Silent Auction.
Anyone can bid for it -all you need to do is use the App's Contact Us.- Contact Form to leave your name and your bid.
If we get a good response then the Silent Auction option is something we might do more of with other products.
The item for Auction this week is one 12kg Bag of Hills Adult Dog Food. Most suitable for Larger dogs 1-5yrs but can be fed to any healthy adult dog under the age of 7yrs.
Bid Away until Monday, Jan 16th at noon.
Winner M.Treanor.
---
14/12/2017 : December Puppy Class Photos
---
12/12/2017 :Dermcare Veterinary Skin Products Raffle
We have a beautiful Pet Derm Hamper to give away free to one of our App users.
All Australian-made (Dermcare) veterinary topical skin products created and produced by a leading veterinary Dermatologist from Brisbane.
Entry in the draw is automatic if you mention our App to our nurses or re-order any food or stock items via App or send your pet photo via Petcam App button.
We have been very proud supporters of Dermcare veterinary products for close to 25yrs.
Entry in the draw is automatic if you mention our App to our nurses or re-order any food or stock items via App or send your pet photo via Petcam App button. Draw runs from Dec 1st 17 to 22nd Dec 17.
If you do not have our app, it is free and very easy to download in just one click: Use the App icon o the top right-hand side of our website's Homepage.
Winner of the hamper 24/12/2017-D. J Whitehead .25/10/2017:
---
25/10/2017: Random Shuffle on our Oak Flats Vet Clinic App.
Winners of the random pick in the photo galleries in our App are: Dog Gallery, Number 64, they win a box of 30 EDUC sachets.
All dogs in the App gallery also are entitled to one free packet of EDUC to be collected before Nov 4th 2017.
Cat Gallery winner is number 4, they win a free bag of Hills food.
All cats with photos in App gallery win a free cat toy.
Bird winner is number 41 and they win a free packet of Vetafarm Budgie crumble bird food.
Dachshund Gallery, winner is number 24, who wins an Aloveen Shampoo and Conditioner starter pack from Dermcare.
All Dachs in gallery win a free packet of EDUC to be collected before Nov 4th.

The photos are counted from left to right in sequence.
If you don't have our App, its free and can be downloaded directly from the app button on the top right-hand side of our home page. 
The app has a Pet Cam button that allows owners to upload pet photos directly to the clinic. We ask for child safety reasons that no children are included in the photos.
Many tx OFVC
A dog is the only thing that can mend a crack in your broken heart

Judy Desmond
Cats were worshipped as Gods by the ancient Egyptians. Cats have never let us forget it.

Anonymous
Anyone who considers protocol unimportant has never dealt with a cat

R.Heinlein
Take pity on those who look down on you; Take care of those you look up to you

A. Seavers
A dog owns nothing, yet is seldom dissatisfied.

Irish Proverb