The Australian & New Zealand College of Veterinary Scientists College Prize Winner 2017
BULLETIN BOARD: GENERAL NEWS AND UPDATES.
ULTRASOUND SERVICES PERFORMED BY QUALIFIED VET ULTRASONOGRAPHER NOW AVAILABLE AT OUR CLINIC. PRE-BOOKING IS REQUIRED.
---
DOG Tinned Food Recall Jan 2019
Hills USA has put out a Voluntary recall on some of their (predominantly non-prescription) TINNED foods for DOGS due to an issue with a supplier adding the incorrect amount of Vitamin D to a production line.
No dry foods, cat foods, or treats are affected
We have never sold any of the non-prescription cans listed as we tend not to recommend tinned food generally. However, if you have purchased any tinned food from elsewhere, best check with that outlet.
Six types of prescription cans from specific batches are being voluntarily pulled by Hills. I/d Full fat cans are on this list and we do sell that line: None of our cans have a batch number involved in the recall so our clients need not be concerned.
However, if you have sourced prescription cans elsewhere, check with that supplier to see if your batch is excluded from the recall.
Hills USA has posted a list, Hills Australia has modified that list down to a shorter list again so use the Australian list when checking your product as the items recalled are different.
Full information can be found at: https://www.hillspet.com.au/productlist
---
OFVC ANNUAL CAT HEALTH WEEK NOV 2018: 12th to 22nd.
We normally run this week earlier in the year as well but time just got away on us; so we have extended the promotion to run on weekdays from Monday Nov 12 to Thursday Nov 22nd inclusive.
We have NINE Discount Desexing slots for cats under 2 years of age.
Females must not be in heat or pregnant.
STRAY OR recently caught FERAL CATS or Obese cats not eligible.
Cats under 4kg will also each receive a FREE vial of Cat Advocate (Fleas/Deworming/H/W medication). Limit of nine cats for a free vial. The free vial can be picked-up in advance when you pay your deposit, so you can apply it to your cat in the days before the actual surgery appointment.
A $30 deposit* is required to book your space. We can take payments over the phone. The booking deposit is non-refundable.
NINE cats regardless of weight will also receive a FREE box of Hills Neutered Young cat sachets.
Additionally, you can select any or all of the following as well to add to the above offers.
Microchipping done at time of desexing is 15% off.
Vaccinations paid for at time of desexing (administered at suture removal appt.) 15% off.
$20 off any bag of the normal Hills Cat Food ranges (Prescription range Not included).
New clients eligible so please share if you think this could help someone.
For any further information, please ring 0242565968.
---
Nov 2018-New Puppy Class Format-read more on our dedicated puppy class page on this site https://www.oakflatsvet.com.au/perfect-puppy-preschool-classes/
---
Friday November  2nd:Keep Pets Cool and Rested Today.
If you don't have air-conditioning, Dr Aine's blog has an ongoing post about easy ways to keep your pets cool and comfortable.
Remember: Fans don't work on dry pets.
Photos below are from a couple of weeks ago and just conveys a relaxation and chilling-out, which are all good ideas for pet owners to embrace today.
———————————————————————————————————————————————–
Two new Food Alerts: Grain-free diets linked to heart disease in dogs.
Probiotics link to low levels of Vit B in dogs on these supplements
Full details in Dr Aine's Blog.https://www.oakflatsvet.com.au/why-healthy-animals-dont-need-medications-supplements-or-special-foods/
———————————————————————————————————————-
CANINE COUGH OUTBREAK- JULY 2018.  Areas currently having affected dogs are:
Shellharbour Village area,
Dunmore,
Jamberoo. 
(Some reports that Gerringong also affected).
For more info:Read Dr Aine's latest blog post.
---
Some Photos of  our weekend July 3rd  at the Australian Vet Science Conference on the Gold Coast. Photo 1: Those of you who know anything about Behaviour, Emotional Health and the Fear-Free Program would be well acquainted with eminent USA Pet Behaviourist Dr Gary Landsberg DVM, DACVB, DECAWBM who was kind enough to answer one-on-one concerns from me that I had on some pet behavioural health issues. Dr Gary also generously posed for a photo with myself and the wonderful Dr Gretta -another speaker/different topic at Science Week. Dr Gretta shared some valuable personal experience with me on the special anaesthetic needs of pets on behavioural medications: a new and evolving field if the lectures at Vet Science week were anything to go by.!
Photos 2 & 3 show Petra Dr Petra Bizikova MVDr, PhD, DipECVD, DipACVD, from North Carolina who is working at the cutting edge of immune-dysfunction skin diseases. It was also great to have Dr Petra lecturer on the presentations of food allergy recognised in dogs and cats- for me, those lectures validated our clinic's long-standing beliefs and approaches to food allergy in cats and dogs.
---
MATESHIP CLINICS JUNE 2018-FREE BLOOD TESTS FOR DOGS AND REDUCE VACCINE COSTS FOR CATS.
TWO MATESHIP CLINICS
1)BLOOD TESTING CLINIC-Wednesday 6th June. We are installing a new state of the art biochemistry machine. Part of the training means we will be doing test runs on blood samples. We thought it would be a good idea to offer owners of older DOGS the chance to get some FREE blood tests done on their pets. If you have your animal on long term medication or it suffers from a chronic disease or you would simply like a wellness blood test, then send all your pet's details in via our contact button on our website or on our app. We can only do 3-4 dogs this particular session and because the clinic will be busy at this time, these sessions are only suitable for non-aggressive pets who are comfortable visiting vet clinics. Depending on the response, we will either do it on a first come basis, or by health needs or all names go in a draw.
2) Cat Vaccine Amnesty Day Weds June 13th. The last 18 months has seen the return of cat viral foes around Australia; some that had not been seen for 40 years. Totally preventable by proper vaccination, these nasty viral diseases made a come-back in areas where 'herd immunity' has been low. Vets in our area are seeing 'cat flu' numbers slowly creep back up and we dread the first report of a feline panleucopenia/cat Parvo. So, if your cat's vaccines have lapsed,now is the time to act. We are holding a Cat Vaccine Amnesty Day on Weds June 13th and again Weds 4th of July. 40% off normal price on both those days so if you think your cat is so out of date it needs 2 visits, make sure you book the June 13th date first. The visit will also include a full check-up of your cat by an experienced Vet. This clinic is restricted to Adult cats with lapsed regular vaccines because these are the cats with the greatest impact on herd immunity and spread of viral disease with their behaviour. This also means that such a clinic would not be good for kittens to attend as represents too great a risk to mix with this particular group at this event.
Share with anyone you think may benefit from the clinic.
Ill animals cannot be vaccinated so please don't book unwell animals into these clinics.
---
01.05.2018 SILENT AUCTION/SECRET BID
Bravecto Winners are L.Benson, S. Pinney, M.Zugnoni, S.Vella and T.Lockhart. Profits go to our Safe House.
Hills Dog Food: Winners are :J Dyble for the 12kg JD, J. Emms for the 18kg Adult dog food. Proceeds go to Mental Health Charities.
---
BIG SILENT AUCTION/SECRET BID NINE ITEMS-ALL FUNDS TO CHARITY.
FOR MORE DETAILS, READ DR AINE'S BLOG POST ON THIS HILLS  & CVE  SUPPORTED AUCTION FOR MENTAL HEALTH CHARITIES.
---
BRAVECTO SILENT AUCTION/SECRET BID ITEM FOR APRIL.
Five single Bravecto Chews will be up for Auction-one for each of the individual sizes of Bravecto.
Profits will go to  A Safe House in Sydney that provides Shelter to Victims of Violence and their pets.
Use the contact button on front page of this  Website to place a bid
Or
Use our clinic's App's Bravecto Order Button to place your bid for Your dog's size of Bravecto. Just tick your dog's size and in special comments write Silent Auction Bid
Ring the clinic directly to place your bid.
---
EASTER HOURS AND ORDERS
Please check-Today….your pet's Medication and Food Needs to ensure you have enough supplies to get through for the next 9 days. If you Don't have 9 days supply left, best ring the clinic & place your order with our nurses; preferably before tomorrow Weds at 12 noon. This ensures if we don't have it in stock, we can order before all Wholesalers' last delivery on Thursday morning. Orders will need to be collected by you before 5.45 pm Thursday. We will be Open at 10.15am Sat for a 1/2 hour to see urgent cases or dispense medications, but not our normal Sat hours so be aware of that. The contact details for the Vet on Emergency duty over the long weekend will be available on our clinic answer machine from Thursday. The Emergency Service will not be able to refill drug prescriptions etc so organise Now.
Easter Hours Closed Friday, Sunday, Monday.
Saturday Open at 10.15am Sat for a walk-in clinic for urgent cases.
---
Rabbit Calici Virus Vaccination Update and Clinic.
We run Rabbit vaccination clinics when there is a viral load surge from a Government release so there is a clinic next week March 21st. For more information about any of the above, read our website article on the background to this issue and or ring the clinic to make a booking. https://www.oakflatsvet.com.au/rabbit-calici-vaccination-clinic-march-21st/
---
---
March 12th SECRET AUCTION SILENT BID RC EDUC WITH PROCEEDS TO CHARITY. WINNER IS T. LOCKHART.
We will donate the full amount of the bid in memory of the amazing Cimmy Lockhart. The clinic will also donate a full box of treats to the safe house on behalf of Luna Lockhart; so that the dogs there get to enjoy some special happy moments with their treats, just as Luna loves her treats in her wonderful new home.
---
MATESHIP VET CLINIC MARCH 16TH 2018: https://tinyurl.com/y7e9kj7b
---
---
DOG Health Alert & Query: February 2018
https://www.oakflatsvet.com.au/dog-health-alert-queryfebruary-2018/
---
A little bit of Magic on a unseasonally cold Summer morning: Chloe's furkids.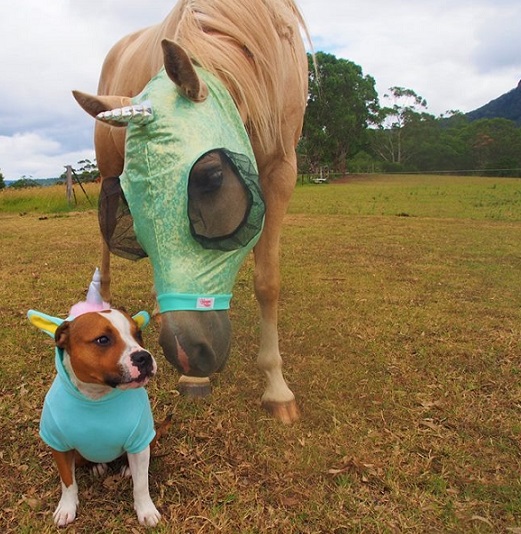 ---
31/01/2018 SILENT AUCTION/SECRET BID ITEM THIS WEEK-PANORAMIS GREEN.
Item for Silent Auction/Secret bid this week: Panoramis Green for 9.1-18kg dogs. Must be used by end of April 2018. You can bid for either one box of 6 tabs( suitable for 2 dogs) or you can pick the second option in the drop-down list in Silent Auction Tab and place an alternative bid for just 3 tablets (if you only have the one dog.) Bidding closes noon this Saturday, Feb 4th, 2018. The tab may be slow to load if many using it, just give it about 60secs to fully load. Bids must be in Australian Dollars only.
---
01/26/2018: Puppy Class is  held at our clinic most weeks.
---
19/01/2017: Silent Auction/Secret Bid- Drontal.
Drontal 10kg size x 5 tablet card,
Silent Auction/Secret Bid now open. Auction closes Saturday 10am, this Jan 27th.
Place bids via the Silent Auction Button on our OFVet clinic App.
Winner must pay in full within 48hrs of being notified of the win.
The highest bid (Aus $ only), allows the bidder to purchase up to 3 of these cards at their winning bid. 
If the winner does not wish to purchase all 3, the next highest bidder will be given the opportunity to purchase the remaining cards at the winning price.
Each tablet doses up to 10kg so one card covers up to 50kg dog weight.
Pick up preferred. Postage extra.
Winner of Silent Auction was K. Dunham. Product to be paid for and collected by noon on Wednesday 31st Jan 2018
---
04/01/2017: Silent Auction/Secret Bid Fun-Hills Food
Silent Auction: Having some Fun from an error.
We have been sent the wrong bag of food from our supplier and it is just not worth the drama and paperwork sending it back. The food is a great food and one we recommend but we just don't have space in our clinic for items that take more than a couple of weeks to sell.
So we will run a Silent Auction.
Anyone can bid for it -all you need to do is use the App's Contact Us.- Contact Form to leave your name and your bid.
If we get a good response then the Silent Auction option is something we might do more of with other products.
The item for Auction this week is one 12kg Bag of Hills Adult Dog Food. Most suitable for Larger dogs 1-5yrs but can be fed to any healthy adult dog under the age of 7yrs.
Bid Away until Monday, Jan 16th at noon.
Winner M.Treanor.
---
14/12/2017 : December Puppy Class Photos
---
12/12/2017 :Dermcare Veterinary Skin Products Raffle
We have a beautiful Pet Derm Hamper to give away free to one of our App users.
All Australian-made (Dermcare) veterinary topical skin products created and produced by a leading veterinary Dermatologist from Brisbane.
Entry in the draw is automatic if you mention our App to our nurses or re-order any food or stock items via App or send your pet photo via Petcam App button.
We have been very proud supporters of Dermcare veterinary products for close to 25yrs.
Entry in the draw is automatic if you mention our App to our nurses or re-order any food or stock items via App or send your pet photo via Petcam App button. Draw runs from Dec 1st 17 to 22nd Dec 17.
If you do not have our app, it is free and very easy to download in just one click: Use the App icon o the top right-hand side of our website's Homepage.
Winner of the hamper 24/12/2017-D. J Whitehead .25/10/2017:
---
25/10/2017: Random Shuffle on our Oak Flats Vet Clinic App.
Winners of the random pick in the photo galleries in our App are: Dog Gallery, Number 64, they win a box of 30 EDUC sachets.
All dogs in the App gallery also are entitled to one free packet of EDUC to be collected before Nov 4th 2017.
Cat Gallery winner is number 4, they win a free bag of Hills food.
All cats with photos in App gallery win a free cat toy.
Bird winner is number 41 and they win a free packet of Vetafarm Budgie crumble bird food.
Dachshund Gallery, winner is number 24, who wins an Aloveen Shampoo and Conditioner starter pack from Dermcare.
All Dachs in gallery win a free packet of EDUC to be collected before Nov 4th.

The photos are counted from left to right in sequence.
If you don't have our App, its free and can be downloaded directly from the app button on the top right-hand side of our home page. 
The app has a Pet Cam button that allows owners to upload pet photos directly to the clinic. We ask for child safety reasons that no children are included in the photos.
Many tx OFVC
A dog is the only thing that can mend a crack in your broken heart

Judy Desmond
Cats were worshipped as Gods by the ancient Egyptians. Cats have never let us forget it.

Anonymous
Anyone who considers protocol unimportant has never dealt with a cat

R.Heinlein
Take pity on those who look down on you; Take care of those you look up to you

A. Seavers
A dog owns nothing, yet is seldom dissatisfied.

Irish Proverb